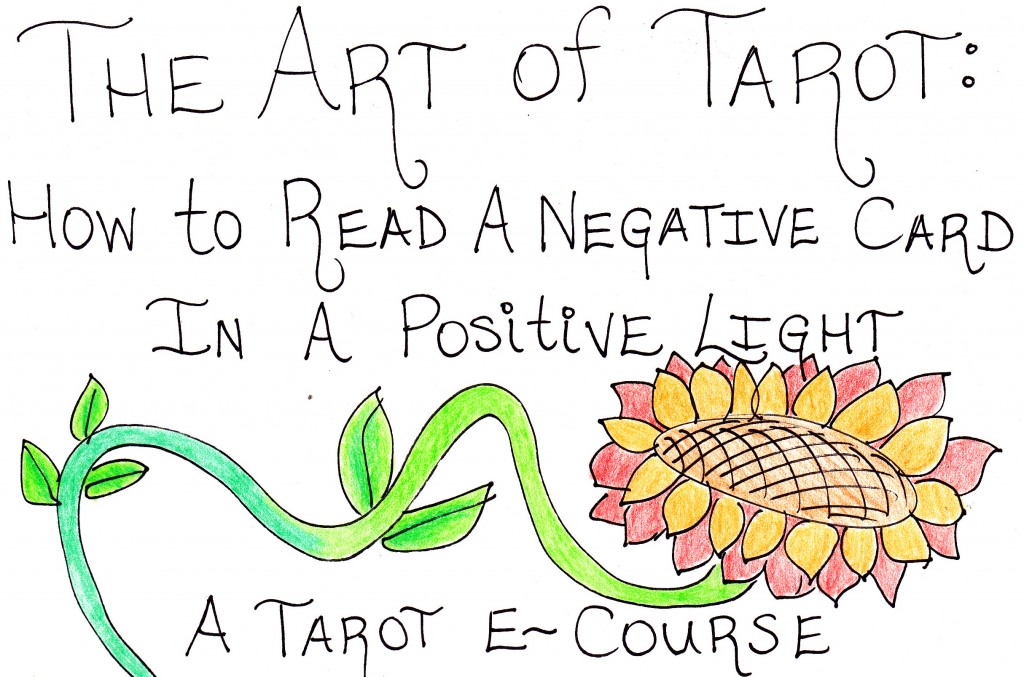 Imagine never being afraid that a "bad" card will pop up in a Tarot reading…
Imagine reading your Tarot cards with complete ease and confidence….
Imagine feeling totally energized & empowered after each and every Tarot reading, regardless of which cards appeared…
As a Tarot Reader, you want to help people and be a source of light.
But this can be tricky if you aren't skilled at using the "negative" cards to help your clients navigate life challenges and find solutions – which is exactly why I created The Art of Tarot: How to Read a Negative Card in a Positive Light.
I created this e-course because…
For many years I was paralyzed with fear whenever a dreary card came up.
Sometimes I would even pretend I didn't see it and shove it back in the deck and draw another card! (Which is a terrible idea, so don't do this!)
Eventually, I stopped hiding from the "scary" Tarot cards and decided to explore them head-on. And something magical happened…
The Tarot readings I did for myself and clients went from decent to amazing.
Suddenly, I felt like I could actually help & empower people with my Tarot readings, instead of just merely entertain.
Now that I have been reading Tarot for a few years, I am pleased to say that I can take ANY negative Tarot card and get a positive interpretation that feels sunny and empowering – without being sugarcoated!
I want to show you exactly how you can do this too!
Do you ever….
♥ feel depressed after a reading because you got one or more crappy cards?
♥ fear getting the "scary" Tarot cards like Death or The Tower?
♥ get totally stuck when you get a "negative" card in a reading?
Now imagine what it would feel like to…
♥ read the "scary" Tarot cards with confidence and ease
♥ eliminate fear from your Tarot readings
♥ come away from every Tarot reading feeling better than you did before, regardless of what cards came up
Become a brave Tarot Reader who reads fearlessly and leaves her clients feeling uplifted, empowered and glowing!
In this e-course you will learn:
♥ my 4 "keys" to interpreting a negative card
♥ how to read ANY negative, scary or depressing Tarot card in a positive light
♥ how to use the negative cards in a reading to empower your clients (and yourself)
♥ Tools for exploring the scary cards in a fun, non-scary way
What's inside this e-course:
♥ 4 audio lessons (approx 10-18 min each)
♥ 3 videos (each is 10-15 min in length)
♥ 8 fun playsheets
♥ Illustrated, colorful cheatsheet that you can refer to during readings
Learn at your own pace and re-visit the material as many times as you like. Whether you learn by doing, watching or listening – I designed this course to be fun, simple and effective!
Price: $45 USD
"I enjoyed this e-course very much!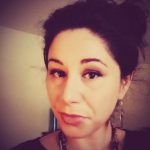 I love the four keys for readers working with negative cards in a reading (and the corresponding hand-out). I think this is particularly helpful when the "negative" card shows up at the end of a reading. As a reader, I always want to end things on a positive and inspirational note- and leave the client feeling empowered. Your system provides readers with some concrete ways to do that- no matter what card comes up. But my favorite parts of your e-course are the hand-outs and suggested exercises. They are so practical and make it so easy for querents to take the lessons from their reading and continue to work with them/apply them in real life. Very cool- great tool for personal development."
Christy Talbot
tarotgirlnextdoor.com
FAQ
Q: I am a Tarot beginner. Will this e-course be suitable for me?
A: This is not a beginner level course, as I don't cover the basics of Tarot reading and I assume you already know the Tarot card meanings. You will get the most out of it if you have a basic understanding of the Tarot. If you are a beginner, I know you will still find this e-course helpful, but I recommend studying the Tarot Meanings and doing some practice readings before doing this course.
Q: When does it start?
A: Whenever you're ready! When you purchase my e-course, you will get instant access to all the course materials.
Q: I only read Tarot for myself and have no interest in reading for others. Is this e-course for me?
A: Yes! This course is for those who read for themselves, for others, professionally or just for fun.
Q: I don't have much time free time to study Tarot. Is this e-course time consuming?
A: I designed this course to be consumed in bite-sized chunks, so its perfect if you only have a small amount of Tarot time. This e-course has 4 sections and each section consists of an audio recording (10-18 min), 2 playsheets and/or a 10 minute video. You can do one section per week or you can do it all in one day – its up to you!
I loved going through the materials in The Art of Tarot!
My personal belief is that we aren't given "doom and gloom" intuitive guidance. Our guides always work with empowering messages - it's just not always easy for us to understand them! Kate's tarot course gives a variety of tools to interpret this guidance in a positive light and see the helpful messages behind what may initially look negative or scary. This course does a fantastic job of showing how the cards are actually trying to communicate what's not working in your life, AND how to change it and improve it. Kate's style is very accessible and easy to follow for beginners, but also thorough enough that experienced readers will gain a ton of confidence and new insight from this course. This course is definitely worth adding to your tarot reading repertoire!
Nahanni Faith Hartwood
http://www.nahannifaith.com/
Empowering!
This e-course was very thorough, thoughtful and comprehensive - I left this course with several very USEFUL tools to apply to negative cards. The audio lessons are easy to listen to; not too much information – but important information delivered in a really digestible, acceptable way! I loved the personal, direct and friendly approach and the exercises were great – all very enjoyable, do-able, empowering and uplifting.
I can't wait to show you how to:

♥ Transform your readings from gloomy to shiny!
♥ Change how you feel when your reading Tarot
♥ Shift the energy from fear to love during a reading
♥ Become an amazing, empowering Tarot reader